Julie's Story
In 1996, Jean McCawley founded the Stevens-Johnson Syndrome Foundation after her daughter, Julie, had SJS. Two years before starting the foundation, a 10-month-old, Julie, began to have grand mal seizures and was diagnosed with Pediatric Epilepsy and put on Phenobarbital. When Jean asked about the side effects, she was told the only one was drowsiness.
Shortly after starting the anti-convulsant, Julie developed puffy, red eyes and blisters in her ears. Jean rushed her to the pediatrician and was told she had conjunctivitis in both eyes and double ear infections. The pediatrician prescribed an antibiotic, told Jean everything would be fine within a few days and sent them on their way. Little did Jean know that Julie would get much worse. The next day, Julie developed a high fever and blistering rash and was again taken to the pediatrician, who said Julie had Chicken Pox and not to worry.
Julie's condition only worsened as she stopped drinking bottles, as her mouth was blister-filled. Julie began dehydrating, and her fever persisted, so Jean brought her to the emergency room, where they started an IV and gave her her missed dose of Phenobarbital. Julie continued to receive her Phenobarbital via IV, all while her blisters increased from the size of a pencil eraser to dime and half dollar size. As the days went on, Julie became unrecognizable, as if she had been dipped in a deep fryer.
August 18, 1994, Julie was admitted to the hospital with SJS/TEN. The diagnosis brought Jean hope and relief, as she believed Julie would soon get better. However, the hope was stolen when a doctor told her, "Jean, this is not a good thing."
Jean's sisters went to the medical library and got the only information they had on SJS–one lone article. As Julie's SJS progressed into Toxic Epidermal Necrolysis (TEN), she began a grueling treatment: being debrided daily and wrapped in bandages, given morphine for the pain, and placed on a feeding tube for nutrition. Jean almost lost Julie several times during her hospitalization as her lungs collapsed. There was even a night when her entire family came up to the hospital to say goodbye to her.
On Julie's first birthday, the doctors pried Julie's eyes open with a lid speculum and broke the news to Jean that Julie was going blind. She was told they would need to perform extensive procedures to save her vision and not only watched in horror but had to hold Julie down as the doctors swept glass rods under her eyelids to burst the blisters.
Jean never left Julie's side, and after 27 days of fighting for her life, Julie was released from the hospital. Jean was given one lesson on how to place Julie's feeding tube through her nose and into her stomach just before leaving the hospital. Julie was left with numerous side effects, including being blind in her right eye with low vision in her left, dry eye syndrome, photophobia and deafness.
As Julie's healing process began, Jean found out that blisters had ruptured in Julie's ears and hardened over her eardrums, making it impossible for her to hear. An ear, nose and throat doctor had to suction the blisters from Julie's ears to restore her hearing.
Starting the Foundation
As Julie recovered, Jean felt isolated in their experience with SJS, as the doctors told her it was so "rare" that she would "never meet another person with it." However, Jean recalled two other children were hospitalized with SJS at the same time as Julie and couldn't believe that it was as "rare" as they said. A year after Julie's SJS, Jean created an SJS support group by connecting with another survivor's family who went to the same pediatrician.
Over the first year, the SJS support group slowly grew, and Jean recognized the need for a foundation to provide information and support on SJS. In 1996, Jean filed the paperwork for the first non-profit SJS Foundation, the Julie Foundation for Allergic Drug Reactions. She developed the first version of the SJS Foundation site as an AOL homepage and chatroom, and messages from around the world, began to flood in.
Jean was on a mission to ensure no one would have to search for information while their loved one was fighting to survive SJS. She compiled all the information she could on SJS into packets she would mail to those with SJS and their families. Then, she developed a newsletter including informational articles and resources and spotlighting SJS families to bring awareness and connection to the SJS community. Jean's cousin volunteered to help create an SJS fact sheet, which has since been distributed to hundreds of thousands of families, medical facilities and pharmacies worldwide.
Spreading SJS Awareness
In 1997, Jean changed the name to the Stevens-Johnson Syndrome Foundation to make the foundation easier to find for those seeking information on SJS and TEN. As the foundation grew, Jean decided it was time there was an SJS awareness ribbon and month. Given that Julie had inspired Jean to found the foundation, she asked a then nine-year-old Julie her favorite color and made it a light blue in her honor. After researching what month would be the best, Jean decided that August would be SJS Awareness Month, seeing as it was when she learned about SJS, and there wasn't a lot happening in August. Jean wrote to all 50 United States governors to get August declared as SJS Awareness month.
An SJS survivor studying IT volunteered to help the foundation develop its website and create a registry for reporting SJS/TEN. The registry is still active today and aids in gathering an accurate count of SJS/TEN patients and identifying successful treatment plans.
Over its 27 years, the foundation has supported thousands globally, hosted numerous SJS awareness events, and worked with medical professionals on SJS research to identify causes, genetic markers and treatment plans. The family funded the foundation until SJS survivors and families began donating to offset the cost of printing and mailing informational materials.
In 2008, at 14 years old, Julie created the SJS Kids Support site to explain SJS to children in a way they could understand. Until the mid-2010s, the foundation sent personalized, hand-made blankets and teddy bears to children who recently had SJS.
In the last six years, the foundation has had no outside funding and is struggling to continue to provide the support and resources the SJS community needs. Without donations, the foundation cannot continue to serve the SJS community. Your contributions are invaluable and allow us to continue serving our mission of ensuring no one goes through SJS alone. To make a tax-deductible donation, click here.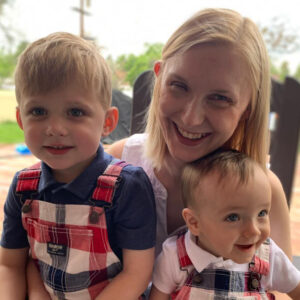 Julie Today